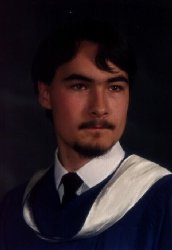 The author of the page, "Rockman's UnderWorld" is 19 year old James Perih, a resident of Winnipeg, Manitoba (in Canada). He is currently finished his Grade Twelve ( and consequently, High School ), from Oak Park. He now has plans on taking Network Support Technition at South Winnipeg Technical Centre.
His current interests include Rockman (Of Course!!), programming in languages such as Perl, Visual Basic, C++, Assembly Language, and Window's Scripting Host.
James is alse interested in forein languages, and is currently touching up his Ukranian (his native language), German, and has plans on learning Japanese and Spanish in the near future.
Starting September, James will be attending Winnipeg Technical College, to take the Network Support Technition. He thinks that this is sweet! He has recieved a scholorship to attend this college, so of course he will take advantage of it. It is a one year, full-day program, costing over $2,500 canadian dollars, but his current school is paying for 40% of that. But, thankfully, his student loan came through, so he is now officially in debt.
James is currently looking for a job in the HTML design business, so if there are any local businesses looking for an expirenced HTML coder, just send a e-message to rockman@ilos.net, or use iCQ and send a message to #23358593
---
Here is a list of James' currently open web pages:
GBColor @ GB7.org
http://209.15.29.171/gbcolor/index.html
The Rockman Experience
http://members.tripod.com/neodragoon/index.html
His Home-Based Web Server (The topic of this site changes constanly.)
http://acarlso1.videon.wave.ca
Rockman's Home.
http://www.videon.wave.ca/~acarlso1/index.html
Dragon Warrior Tochi
http://www.geocities.com/TimesSquare/Stadium/9556/index.html
---
Here is a list James' Favorite Pages
Winfiles.Com
http://www.winfiiles.com/index.html
Yahoo! Mail
http://mail.yahoo.com/index.html
Emulation Extreme
http://www.emux.com/index.html
Windows Magazine
http://www.winmag.com/index.html
The Assimilated Game MIDI Collection
http://www.apexcorp.com/~rvhorn/assimilate/index.html
AddMe! Free Web Site Promotion
http://www.addme.com/index.html
InterLink Online (MY ISP)
http://www.ilos.net/index.html
ICQ Home
http://www.icq.com/index.html
For Rockman/Megaman related links,
go to my External Links or Web Ring page
---
Here is a list of direct downloads
Verdana Font Pack (PC) Font set used in all my pages
http://www.ilos.net/~rockman/download/verdana.zip
---
Altered for use on The Rockman Experience
Copyright 1999, James Perih
Updated Sunday, March 07, 1999